Requirements
Your server must support plugins.
You can install plugins on Spigot, Bukkit, Standard Minecraft.
You can't install plugins on Forge servers and modpacks.
Plugin Files
To install plugins you will need to get .jar files.
Search and download Minecraft Server plugins here:
http://dev.bukkit.org/bukkit-plugins/
https://www.spigotmc.org/resources/categories/bukkit.4/
http://mods.curse.com/bukkit-plugins/minecraft
As an example, we will describe the WorldEdit plugin installation process:
http://dev.bukkit.org/bukkit-plugins/worldedit/
.
FTP Connection
Follow the Guide (
How to Edit Files Using FileZilla FTP
) to connect via FTP by using your Game Server login details.
You can find your login details on the Game Server page (see the "FTP Username" section).
Files Upload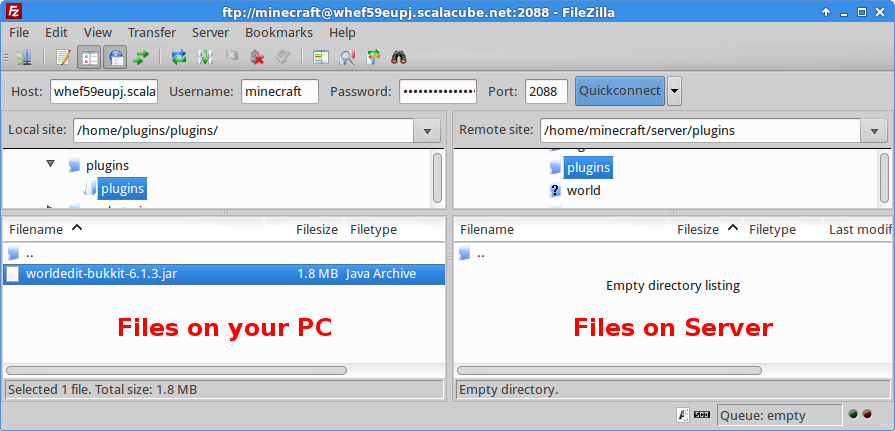 After connection is successfully established, you will see two sections. Files stored on your PC are displayed on the left, and those stored on the server are displayed on the right. By using the left section, navigate to a folder where your downloaded .jar plugin files are saved. By using the right section, navigate to the server/plugins folder. Next, copy the plugin files from the left section (your PC) to the right section (Server).
Plugins Check
Reboot the server to start using the new plugins. By using the Console, run the "plugins" command to check the correctness of plugins installation. The output will show a list of all plugins installed.