Are you a digital marketer interested in earning generous affiliate revenue for selling our Minecraft server hosting? We believe that we offer one of the most profitable affiliate sales schemes around, with our generous 30% commission for each sale. Below, you will learn everything you need to get started generating revenue using our scheme. If you have any questions once you have finished reading this page, you can contact a member of our affiliate team for help and advice, they will be happy to help you.
Enroll in our Affiliate Program
Signup Instructions
Signing up for our Minecraft server affiliate schemes couldn't be easier. All you need to do is
click this link
and provide the information we need. Once you have completed the signup process you will be provided with all of the information you need to start earning right away.
How to Earn Revenue
Once you have completed the signup process, you will be provided with your personalised tracking link. This referral link is then used to promote out Minecraft server hosting products. Your referral link is unique to you, and all traffic you generate through your link is logged and tracked in real-time.
You can use this link anywhere. In a Facebook advertisement, a Twitter post, embedded in a YouTube video, your newsletter or as a link on your website. You don't need to do anything else. We will track any traffic generated by your referral link, and pay you a commission for every Minecraft server hosting product purchased by this traffic.
Earning Potential
Your earning potential is unlimited. The more people you refer who rent one of our Minecraft servers, the more you earn. We don't operate a complicated tiered commission approach as some companies do. We pay you 30% of the value of every sale straight out of the door.
This means if you sell one of our Minecraft server hosting plans valued at $40, you will earn $12 in affiliate commission. The commission is paid for every customer who signs up within 30 days of using your tracking link.
Cashing Out Your Earnings
Cashing out your affiliate earnings is very easy. If a customer rents one of our Minecraft server hosting packages within 30 days of clicking your affiliate link, then once their payment has cleared into our account, you will be credited with 30% of the purchase price to your affiliate account.
You can withdraw from your affiliate account at any time. You can do this simply using PayPal. However, please note that there is a minimum withdrawal limit of $20. As long as you have more than $20 in your affiliate account you can cash it out anytime you like. Unfortunately, PayPal is the only payment gateway we use for affiliate withdrawals, so you will need to have your own PayPal account that is in good standing, in order to cash out your affiliate earnings.
Tracking Your Referrals
Once you have signed up for our Minecraft server rental affiliate scheme, you will be able to track all of the traffic statistics for your referral link. You can instantly find out which customers have rented a Minecraft server from us through your link. You can also see what affiliate earnings you can expect to receive in the next 30 days from new referrals.
Our affiliate portal is also the place that you manage your account, change your information, reset your password and make withdrawals. A full backend to manage your affiliate account simply.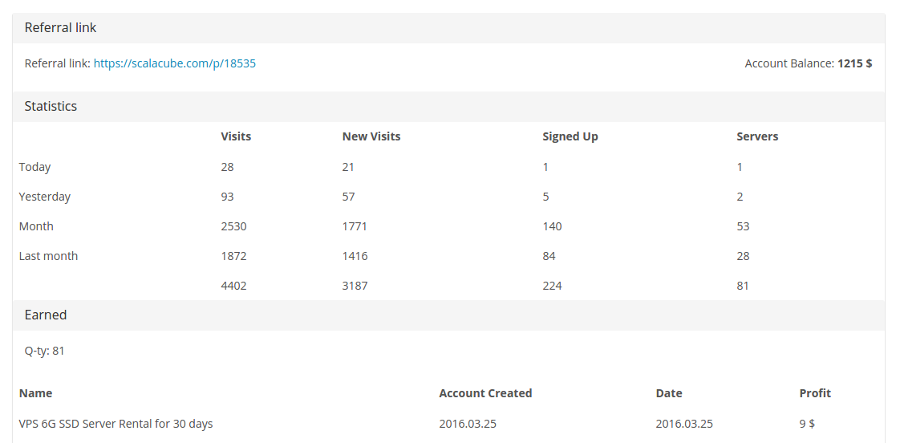 Ready to Start Earning? Sign Up Now!
Are you a professional digital marketer who is looking for potential new income streams and fresh products to promote? Then we think our affiliate scheme is well worth consideration. Paying an extremely competitive 30% across the board, there is a real opportunity to produce some serious revenue.
Or perhaps you are a Minecraft player who already rents one of our servers, and wants to try and keep the cost down by earning affiliate income? Because we offer a flat rate of 30% commission, rather than a tiered system, it takes only a few sales each month to cover the cost of your own server.
Want to Know More?
If you have additional questions, or need some extra information, please do feel free to contact us. One of our affiliate team will be able to provide you with the help and assistance you need to get started earning revenue.
But remember, you can't start earning until you have registered a new affiliate account and received your referral link. If you
click here
you can sign up straight away and start earning.
Enroll in our Affiliate Program